APPS
iEat Hawker
US$0.99 (S$1.30) From the Apple App Store
Based on the food blog, ieartishootipost.sg, this app will help you find Singapore's best hawker fare, The database offers information on more than 460 hawker stalls, each with a write-up , photos and ratings.
If you are foodie , use the category function to find the best chicken rice, Nasi lemak or Roti Prata in Singapore.On the other hand, if you just like eating and only want to find food near you, tap on the map tab to locate stalls in your vicinity.There is also a free version of this app, which has fewer categories , for the price, it makes sense to get the full versions.
100 PLUS RunMaster
Free, from the Apple Apps Store
Planning to take part in a marathon? This app might help.
It tracks the distance you have covered, you pace and the calories burnt. If you are in serious training for a marathon, this apps has a programme to prepare you for that 42km slog.
The app gives out badges if you meet certain targets , but what sets it apart from other running apps is that it gives out real prizes as well, such as 100Plus drinks and sports accessories
Not Surprisingly , it has a fluidloss calculator, this tells you how much you have lost and how much you need to drink to replenish, Overall, this is a handy app for most runners.
TransitLink How2Go
Free, from the Apple App Store
When your way around by bus and train.You can choose the fastest route, the cheapest route
or the one with the least number of Transfers.
It will search using addresses , road names, landmarks, MRT Station or bus stop codes.
The nice thing about nice this App is that it will also calculate the cost of fares based on distance covered and type of passenger (adult/child/senior citizen).
My Place
Free, from Chrome Web Store
This application supports the GoogleMaps.
You Can register your favorite place.
---How to Register---
*Case1
How to register with GoogleMaps
1.Run GoogleMaps application
2.Long tap and "Share this place" in this application
3.Throw intent to this Application(Myplace)
*Case2
How to register from GoogleMaps URL
1.Long tap link URL.
2.Select "Share link"
3.Throw intent to this Application(Myplace)
---How to call the registration place---
1.Run this Application(Myplace)
2.Select Group→Select Place
Use this app to create maps or your favourite places around the world, such as restaurants, clubs or beaches. Hen share you maps with friends by inviting them to use the app.
You can add a description to each location but not upload images and videos.
My places comes with three sets of geo-tagged content, which you can add to your maps to view world landmarks and the latest Flickr Photos.
Upcoming features will let you create your own content sets and view check-in details of friends on location-based services such as Foursquare.
Three voice-activated services for smartphones
Iris Platform:Android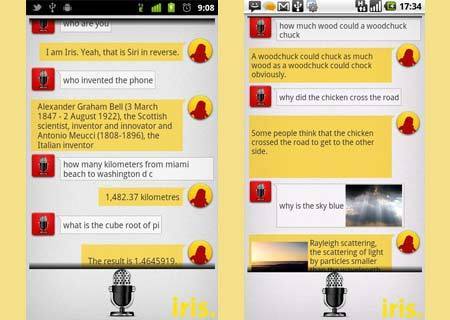 If the apps tagline, ''just talk to Iris about anything and listen to its wisdom '' does not tell you this is a dig at Apple's Siri, the name should: Iris is Siri spelled backwards.
Aside from answering questions and giving some verbal replies, Iris can send SMS messages and dial numbers on your contact list,This does not work consistently , First, I told the phone to dial a friends numbers , which it did , it does better with English names, although it kept identifying Peter as pizza. I then tried to send as SMS message, that worked too, but instead of asking me are a recipient, it sent the message immediately to the friend I had called earlier.
Results for queries were not perfect , while a ''burn Notice'' search did produce a one-liner about the TV show , Iris said it needed time to formulate the reply when I asked it to search for ''twilight'' I assume this is its way of telling me to try again.When you say that you want to send an e-mail, its response is: ''I want to become smarter than humans''
Well, that may take a while, in the meantime, the humans behind Iris need to find ways to make the app smarter than Siri , instead offering it as a sideshow.
DeF!nd
Platform: Android, iOS
It might sound like a gimmick to tout an app's ability to recognise Spoken Singlish and other local terms, but its benefits are tremendous.User no longer need to do a word search by keying in names and wondering if that delicious Indian rice dish should be spelled nasi briyani, nasi brani or nasi biryani.Better yet, if you have in hankering for carrot cake, its default result will be chye tow kway instead of the American cake of the same name.Fire up the app and you can search for food, banks, ATMs and other amenities; make a restaurant reservation; or search business directories, among other things.
Voice input applies only to searches, so users cannot ''ask'' the app to book a taxi or buy movie tickets. If there is a voice option, a red button will appear on the screen.
For the most part, the app easily recognises search request for restaurant such as Sakae Sushi, amenities such as POSB ATMs and local food such as Hokkien mee, kaya toast nasi lemak and even hum cheen pang (a-salty-sweet Chinese fritter).
Still, the app is a work-in-progress, so it does not recognise every last local speciality, While it can search by its dialect name, ''orhluak'' was beyond its current capabilities.
And you can forget about the location-based feature, the app can pinpoint where you are, but it does not list search results by proximity to your location.
So a search for Hokkien mee in Toa Payoh produced results in Changi and the East Coast area. Some faraway eateries were right at the top of the list.
As this app is powered by SingTel inSing business directories and may not be exhaustive.